My poor babies have been given medication before that has been in pill form. Some pills for children are made chewable, but some kids don't even like to chew them. I've tried the whole, sprinkle the crushed pill over applesauce, etc tricks but sometimes the sick kiddo won't finish their snack and not get a full dose of the intended medicine. Here's one way I battle this issue with my kids:
1. Take your pill for the kiddo and smash it in a zip lock bag with the back of a spoon.
2. Run a plain sucker (no tootsie rolls, gum, etc) under the faucet or dip it in a clean glass of water.
3. Roll the sucker in the zip lock bag over the crushed pill.
4. Hand the sucker to the
sucker
kid and relish their look of surprise to get such an non-nutritional treat when ill.
This worked great with motion sickness medication during a trip for my EXTREMELY car sick kiddo who doesn't like to swallow medication. Of course, the sucker may not taste very good at first, but once they get past that first shock all is well.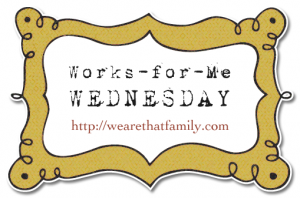 What tricks have you employed to get kids to take the medicine they need?
Be sure to check out more of my blog series on
Kids and Medicine
and come back on Friday to read my guest post from
Dawn of 5 Kids and a Dog
talk about Teens and Medicine.
NOTICE: Always talk to your doctor about any medicines and medical conditions you may have.
Follow @wishfulme