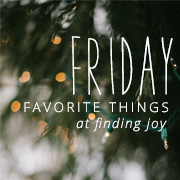 With the week that I have had, this will be a challenge for me and a good thing to work on. This week has been exhausting. I have today and tomorrow yet to struggle through but let me see what favorite things I can dig up...
Walking Buddies
Even if she can't walk a straight line. It's nice to have someone to walk along with me.
Creating
I have a new found joy in sewing! I wish I had more time for it, but I love having whatever time I can find to finish a project. I learned a LOT making this apron!
Playing Outside
My kids LOVE to play outside. I am so glad for this.
They are usually in much better moods after having some fun outside.
Pretty Flowers
Yes, these are from our front window box but the kids meant well. I told them I didn't want anymore dandelions. Hehe... Ah well... These are much prettier!
Pumpkin Chocolate Chip Cookies
Originally, I did not have the time to make these cookies. Plans change(d).
A LOT.
I am glad that I had the time to make these cookies after all.
Very yummy!!
So there... I do have some favorite things from this week. That's nice! Good way to reflect on the week instead of the stress. Oh and yes, most of these are from my Instagram photos. I didn't record this week any other way. :)
Follow @wishfulme